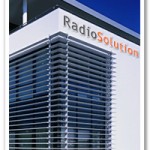 ABOUT RADIOSOLUTION
Please take a moment to read all about the SHOUTcast Icecast media streaming company; Radiosolution. Learn why Radiosolution is by far the best and most reliable company to provide the solutions your radio project needs to excel.
OUR MISSION
Let our friendly, talented, knowledgeable staff assist you to build your project, such as an online radio station using our high end reliable video and audio streaming technologies. We want to become your partner for all your internet radio hosting needs, as well as your one stop shop for radio products such as custom DJ intros, drops and radio IDs.
ABOUT OUR COMPANY
Radiosolution first started out as a regular internet web hosting company in Canada. It was founded in 1997 by radio hobbyist and enthusiast; Derek Bullard. Over the next few years, since competition was growing by the day in this industry, we decided to become different and more unique. We thought good and hard about how we could broaden our services. We began to gain plenty of expertise and knowledge in SHOUTcast Icecast streaming audio servers and decided to specialize in hosting this marvelous technology. Today we offer top-notch internet music streaming SHOUTcast Icecast servers to thousands of listeners 24 hours a day, 365 days a year! In other words; we are a high quality and reliable SHOUTcast provider.
TECHNOLOGY
Radiosolution's servers are hosted in Canada, USA and Germany in secure data centers equipped with a wide range of security, power management, cooling and network access equipment. Power regulation systems, diesel generators and air conditioning systems are vital aspects of the facilities. All these infrastructures are totally controlled and managed 365 days a year, 7 days a week, and 24 hours a day by a team of hosting infrastructures experts.
Radiosolution uses up-to-date unique, tried, tested and true SHOUTcast Icecast and Wowza streaming control software. We provide you with the easy to use tools to have full control over your station. The user friendly interface allows you to manage your Radio configuration, playlists and Auto DJ. We work closely with the developers of these applications by constantly submitting feedback on how to improve their products.
OUR TEAM
Customer satisfaction is at the top of our list! We offer online ticket support 24 hours a day, 7 days a week and 365 days a year. Our trained staff will assist you quickly with any technical problem, concerns or comments you may have. Personalized attention is important and that is why we want to get to know you and learn more about your project. Our motto is: Come as a client, leave as friend!
Learning more about Radiosolution
Thank you for taking the time to learn more about Radiosolution. Please do not hesitate to contact us if you have any questions left. We are happy to provide you with all the audio streaming and hosting information you need to make successful decisions.