Internet Radio Software
Out of the many factors to consider for your radio station, one of the most important is the software that you will choose to broadcast your music and voice to the world. Happily there is some choice out there. You will discover simple to more advanced and free to paid versions of broadcasting software. Your selection will be based on the operating system you are using; MAC OS, WINDOWS or LINUX.

Winamp; Simple and Free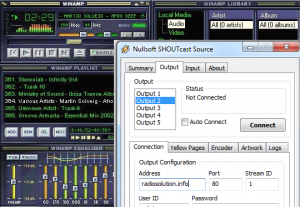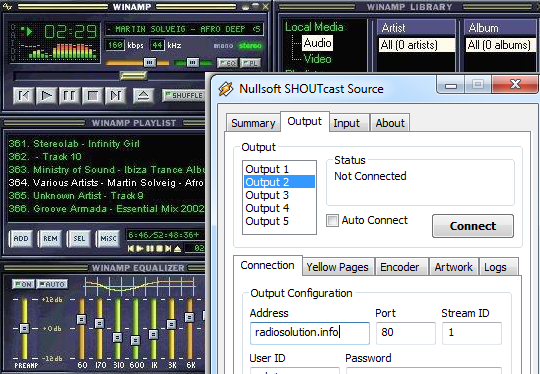 Recently Winamp & SHOUTcast have recently changed ownership (from AOL to Radionomy). With AOL, SHOUTcast appeared to be free of any commercialization and was left to the community for the longest time. I am not convinced Radionomy was the best organisation to save the project. SHOUTcast was in danger of being closed by AOL and this created a huge outcry by the community. Radionomy at the time appeared to have saved the day. However, now over time it has become evident that they are revamping the whole project for their own commercial gain. This being said it is unclear where they will take Winamp. For now it is still available here (http://winamp.com)
Winamp allows you to manage a playlist, broadcast your voice and offers different plugins to control fading. Combined with the SHOUTcast Dsp plugin you can get on air easily and quickly.  You can download it directly from Radiosolution website (http://radiosolution.info/downloads/shoutcast-dsp-2-3-5-windows.exe) to avoid having to give your email address to Radionomy.
Pros;  Free to  use. Easy and fast setup.
Cons;  Very hard to achieve a professional sounding station. Your station will sound like a looping playlist. Difficult to use the voice and microphone feature. Not at all optimized for a live broadcast. Workflow is very painful. No basic scheduling features.
Final verdict;  If you want a professional sounding station avoid Winamp if possible. There are way to many other great programs to waste time working with this software.
Current platforms;  MAC OS, WINDOWS

Butt Broadcaster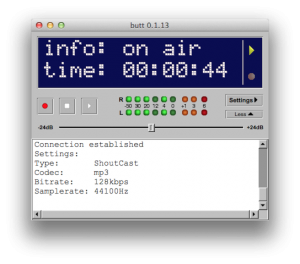 Butt Broadcaster is an easy to use, multi OS streaming tool. This is the best tool to use if you are using external equipment such as (DJ controllers, CD players, Mixers, etc.)  It will stream and record from your MIC or LINE Input. It supports SHOUTcast and Icecast and runs on Linux, Mac OS X and Windows. It is NOT intended to be a server by itself or automatically stream a playlist of audio files. So you will still need an audio source and to rent a SHOUTcast v1/v2 or Icecast hosted server.
The best part of this software is that it is completely FREE and I feel it achieves everything its commercial competitor Nicecast (https://www.rogueamoeba.com/nicecast/download.php) does.  Nicecast was a long time favorite and solution for MAC OS users. MAC users had a limited choice when it came to broadcasting tools. Butt Broadcaster changes all of this. Download Butt Broadcaster for free here. (http://butt.sourceforge.net)
Pros;  Free to  use. Easy and fast setup.
Cons;  You need external hardware.
Final verdict;  This is the best free tool out there to stream  and record your external equipment.
Current platforms;  MAC OS, WINDOWS, LINUX
Time to Get Serious With Sam Broadcaster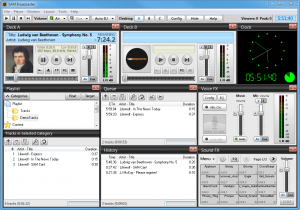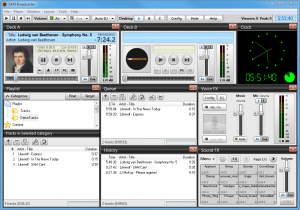 If you want to get more serious about your radio station and you have a small budget, you will want to consider purchasing Sam Broadcaster by Spacial Audio.
Sam Broadcaster is a  radio automation software developed specifically for radio stations. It has a quality streaming DSP encoder that will allow you to connect to SHOUTcast v1/v2 or Icecast. This software can organize large music libraries quickly into multiple categories, import information from tags and automatically look up track information via Amazon.com.
The built in audio features like cross-fade detection, gap killer, volume normalization and 5-band compressor and limiter will make your radio station sound professional.
You can discover many of the other features if you give the software a trial run here. (https://store.spacial.com/545/cookie?affiliate=34502&redirectto=http%3a%2f%2fspacial.com%2fsam-broadcaster)
Pros;  Professional sound. Widely used by many radio stations. Easy to use Microphone.
Cons;  Have seen many database issues. Requires a certain learning curve. Steep price in comparison to some free alternatives. You will need to learn how to PAL script to benefit from Sam's full power.
Final verdict; I have suggested Sam Broadcaster to many different radio stations, because it seems to be tailored well to the needs of a traditional radio station. However, I do have a soft spot for free alternatives.
Current platforms;  WINDOWS
Even Better With RadioDJ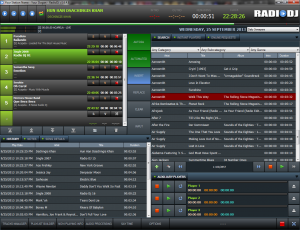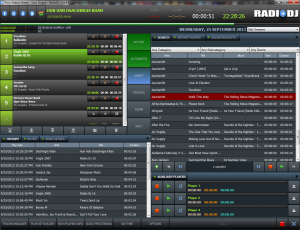 You will not have to break the bank to get quality software to run your radio station. RadioDJ comes highly recommended as an excellent FREE radio automation solution. It is also a very good alternative to Sam Broadcaster.
RadioDJ features integrated Shoutcast/Icecast encoder (by plugin),  an audio Processor plugin (with AGC, Compressor and 10 band Equalizer) for a great sound. It has multiple sound-card outputs an works with any sound-card supported by Windows. You will appreciate the Auto DJ function, based on category and subcategory rotation for 24/7 automation. RadioDJ comes with predefined main categories that will help you organize all of your sound files. Beside those, you can add virtually unlimited categories and subcategories for your music, jingles, sweepers etc. Go ahead and download and install the software for free (http://www.radiodj.ro/)
Pros;  FREE, Professional sound, Reliable database management. Great support community.
Cons; I really cannot complain about anything.
Final verdict; RadioDJ is my choice in Radio Automation Software. I do have a soft spot for free alternatives.
Current platforms;  WINDOWS
Honorable mentions
The list of broadcast live radio software could go on as there are other solutions that many radio stations are using with much success. We have simply outlined the software with which we have the most experience. Based on research we have some other software that deserves mentioning.
Station Playlist (http://www.stationplaylist.com/)   Designed for Pro Stations. A trial is available for download but you must purchase a license.
Simian LITE and PRO (http://www.bsiusa.com/)  Powerful fully featured, professional radio automation software. You must purchase a license.
Mixx (http://www.mixxx.org/)  A FREE World class mixing engine with Auto DJ feature for Windows and Linux.
Megaseg (http://www.megaseg.com/)   This is the Sam Broadcaster for MAC users. You must purchase a license.
It is no secret that running a radio station takes time and patience. However, listeners will only stick around if your station sounds professional.  Choosing the right software can influence those factors greatly. Hopefully this list will help you make a good choice so you can concentrate your valuable time by offering a quality sound, not to mention focus on attracting and keeping listeners. Do not hesitate to contact a  Radiosolution representative for assistance with any of these programs.