SHOUTcast Black Friday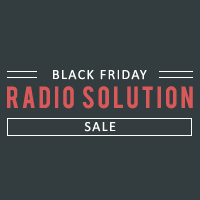 Thanksgiving has arrived and that can mean only one thing; it is time for SHOUTcast Black Friday savings and specials. We have put together some deals that might give you that boost needed to finally start your very own radio station.
Make your project even more professional with your very own domain name. Check to see if your own domain name is available.
We are offering an amazing deal of 50% off the first month on any SHOUTcast or IceCast servers. *This special excludes any dedicated servers.
You can also try our web hosting packages including unlimited emails accounts. We are offering the same amazing deal at 50% off the first month.
The coupon code for both of these deals is BlackFriday
If you require any assistance with the purchase of any product please contact our sales team. It will be our pleasure to meet you and assist you.
Complete Start your own radio station package for 1 year @ only 99$  You save 160$!  WOW!!!
Domain name .com
Web hosting with 2Gb of space
1 web page with Html5 music player playing your station
Centova Cloud based radio management with 25 slots at 128kbps
Radio Id recorded by Dibblebee
Buy directly here for Black Friday

Please note the coupon code will expire November 25, 2016 at midnight