SHOUTcast Black Friday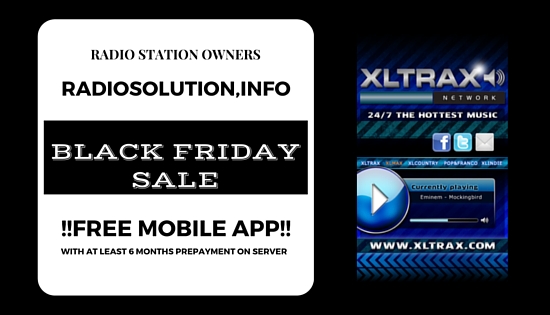 Radiosolution offers you a fantastic SHOUTcast black friday. We want you to save money on your SHOUTcast server. Taking advantage of SHOUTcast black friday is one good way to save lots of money. Every radio station needs an Android mobile application and we at Radiosolution make that possible. We can assure you that our applications, products and services will meet your needs. The best thing is that they are very affordable. All you have to do is use the promo code we provide on the deals below and you will start saving.
The Deals
RECEIVE A CUSTOM MOBILE APPLICATION FOR YOUR SERVER FREE WHEN YOU SIGN UP OR RENEW A PACKAGE FOR AT LEAST 6 MONTHS OR MORE.
Contact us for details or simply make your purchase and you will be eligible for your free app automatically.
This is one SHOUTcast Black Friday special you do not want to miss! Using the promo code below you will get a website wide discount.
35 % OFF EVERYTHING ON THE WEBSITE  use PROMO CODE BLACKFRIDAY
Get the full version of our HTML5 SHOUTcast and Icecast player for your website for only $29  that is $10 off the regular price. PROMO CODE HTML5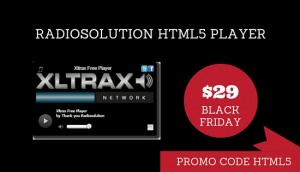 If you do not know what Black Friday is; click here for more information.