Radio station Sweepers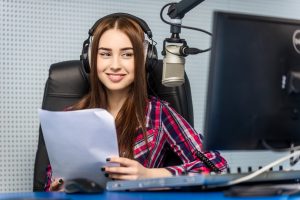 If you're not in the radio broadcasts niche, the term radio station sweepers will likely make you envision a janitor who comes by the end of a day to clean up the studio. If that is what you perceived, not to worry, you're not alone! There exists so much jargon used in the radio broadcasts industry, it's challenging for someone outside the industry or anyone looking to start a career in radio to realize what it all means.
A radio sweeper is a recorded statement by a voice over artist identifying the brand name of a radio station along with a tagline or short phrase. It often comes to less than 20 words in total and can be combined with sound effects and effects on the voice (for example stereo phasing, echo or pitch shift to name one or two).
A radio sweeper is a short, pre-recorded sample used by radio stations as segues between tracks that give listeners a brief channel identifier or promo, usually 20 seconds or less.
An example of a radio sweeper is often as follows:
• You're listening to your number 1 radio station.
• We play the best music of the 90s.
• visit us @ radiosolution.info.
• Don't Touch That Dial you're listening to.
• You're listening to the soft sounds of 'name' radio.
Why Do You Need Radio Sweepers?

Radio sweepers enable listeners to identify which radio station they are hearing. This is important for market research when audience are asked to recollect their favorite radio station during polls.
When you're playing a set of melodies back to back you should aim to pinpoint the name of your radio station in between each track. Radio sweepers are perfect for this need. They do the job quickly and let you get back to the music as soon as possible. You can have radio sweepers designed in a way that it's possible to lay them over the top of the intro to the next music track (before the vocals begins). Some clever radio automation software packages can even play radio sweepers that mix seamlessly from track to track right up to the vocals of the subsequent track.You need radio sweepers to remind your listener of what they're listening to and can even give them a call to action.
Think of what you want your listener to do.
Radio Sweeper Call to Actions
Listed here are some ideas of calls to action that could be used in your next radio sweeper:
• You could ask the listener to visit your site.
• Get the listener to follow your social media profiles.
• Ask the listener to call in to the radio station.
• Word of mouth to get the listener to tell a friend.
• Stay tuned.
Effective radio basically comes down to this make people enjoy tuning in to your station and by making your station very listenable. Radio sweepers helps you to build a great brand signature, comfort zone and program flow. That is, if radio sweeper is well-produced, regularly programmed and functionally used. If you're searching for powerful voices to take the sound of your station to the next level, look no further than www.radiosolution.info
You can also visit one of our voice over projects by Dibblebee at www.djdropsandjingles.com