Best Microphones for Internet Radio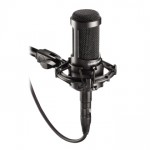 The microphone has the biggest effect on the quality of your recordings. You want to invest a good chunk of your budget in a microphone that delivers a quality sound. Your listeners will appreciate the professional sound of your radio broadcast. Please do not even think about taking out your USB Headset Microphone and begin recording your live show. These headsets are usually intended for online gaming or chatting. There is nothing worse than listening to someone talking and hearing an irritating humming or buzzing sound in the background. We will consider a few microphone models that should meet your budget requirements.
Blue Microphone Snowball USB Microphone
It can be a very difficult task to set up a professional microphone. To do so requires a mixer, pro audio XLR cables and external sound cards. If you do not feel comfortable with this type of complicated set up, a USB microphone may be the solution.
Blue Microphones offer a consumer-level plug-and-play USB microphone for around $60. You will appreciate the convenience of a no fuss plug-in and direct integration with a desktop computer or laptop.
With its dual capsule design and unique three-pattern switch (cardioid, cardioid with -10dB and omni), the Snowball is ideal for internet radio, interviews and podcasting. You will appreciate the unique design of the Snowball. It is shaped like a ball measuring 4 inches in diameter. It rests on a sturdy tripod, which has an adjustable height of 5 to 6.5 inches.
Overall this microphone lives up to its claim of being easy to use and a good sounding microphone. Remember this microphone is a great upgrade from your desktop mic, headset or integrated laptop mic. It is not a studio quality microphone. It does not feature important elements like audio compression and EQ. We will eventually touch on some of this advanced equipment later on.

Blue Yeti Microphone
The Yeti microphone is made by the same company that brought to you the Snowball. This is the second mic of the two USB Microphones that we will recommend for your radio station.
The Yeti features Blue's unique tri-capsule array which allows for versatile positioning and provides four selectable polar patterns. It also functions as an audio output as well as an input, meaning you can plug your headphones into it to hear yourself with zero-latency while you record.If you're doing voiceovers, you can set its pickup pattern to cardioid. If you're recording vocals or singing, set it to stereo. Doing an interview? Set it to bidirectional, or if you're in a group interview or conference call, set it to omnidirectional.
You will need to spend around $100 for the Blue Yeti. If you want to invest about $100 more you can get the Pro model which features a USB & XLR input. If you decide to invest later on in pre-amps and professional mixers, then this could be a very good option for you.
Blue Microphones has set out to change people's opinion of USB microphones. If your budget is limited and you want to have a clear sounding microphone, then why not try the Snowball, Yeti or Yeti Pro.
Behringer C-1 Studio Condenser Microphone

If you decide to go with an XLR microphone, German designed Behringer probably offers the best value for your money. Priced at around $80, the C-1 is an affordable, high-quality way to put this essential studio tool to work for you. Thanks to its cardioid (heart-shaped) pattern, the C-1 microphone picks up your source signal while rejecting off-axis sounds that can ruin an otherwise perfect recording. Included in the package is a rugged, die-cast metal chassis, gold-plated XLR connector, a swivel stand mount, and foam-padded carrying case. It seems that for the price you really can't go wrong with the Behringer C-1.

Audio-Technica AT2035

The AT2035 is a large-diaphragm condenser with a very good reputation in the quality department.Designed for critical home/project/professional studio applications and live performance, this side-address cardioid studio condenser delivers exceptional detail and low noise. Equipped with a switchable 80 Hz high-pass filter and 10 dB pad, the AT2035 handles high sound pressure levels with ease. Along with its rugged construction and high-performance specifications, the AT2035 provides an exceptional level of consistency from model to model. It comes equipped with a protective pouch and a custom shock mount. You will need to purchase an XLR cable and an external mixer or sound card with XLR jacks. The ease of use, reliability and audio quality make and price ($180) make this microphone a good choice for your internet radio station
Rode NTK
I thought I would throw in a microphone in the $500 range even though it is not necessary to invest so much money when you initially start your radio station. But, let us just say, you have a big budget and you want to buy a microphone that some of the pros use. The Rode NTK is a premium valve condenser microphone featuring a large capsule gold-plate membrane with hand-selected and graded twin triode tubes for wide dynamic range, ultralow noise, and fantastic presence and warmth. Although I have no experience with this microphone, many voice over artists appear very satisfied with the final voice quality.
In Conclusion
Now you have some suggestions you can consider for your project. Remember that your choice of microphone depends on the money you have to invest; the general rule is that the more you spend the better the microphone will sound. Of course there are exceptions like if you can find closeout deals, specials or even a good quality used microphone at an unbeatable price.
Another factor that comes into play when selecting a microphone is how exactly you sound when using them. Do not take for granted that because you pay more money for a microphone that you will automatically sound awesome. If you have the chance, try the microphone and see how it fits with your voice.
Remember, as time will pass, your experience and knowledge will grow. You will speak to others and get their opinion on different types of equipment based on their personal experience. When you finally become a radio station guru, your next purchase will be an even more intelligent one. It will probably reflect more your current reality, depending on what path your career in radio has taken you.
If you decide to do your own research on microphones, you will come across two different type of microphones, condenser and dynamic. Here is a great article by Joe Shambro that explains the difference between the two types. http://homerecording.about.com/od/microphones101/a/mic_types.htm
Hopefully you now have a better understanding about microphones and this information helps you make a good choice. Next we will talk about some of the accessories need for your microphone.