Meet Demetrio Fortman, COO at TemplateMonster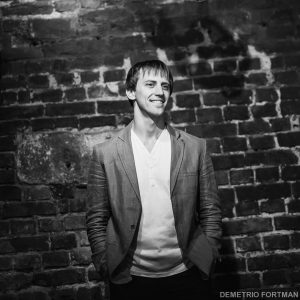 Running business online is an absolutely ordinary thing nowadays. Those who don't have an online representation of their products and services are risking to find themselves overboard sooner or later. To build a trustworthy professional website you no longer need to resort to services of web studios. Our today's guest is one of those who made it possible for the masses. Meet Demetrio Fortman, COO at TemplateMonster and founder of such popular projects as MotoCMS, MotoPress and Defrozo.
Interviewer: Hello Demetrio! Thanks for finding the time and joining us today. You are a role model for many young entrepreneurs and it would be extremely interesting for our readers to learn from your experience. Let's start with an easy question as a warm-up. Tell us about yourself. When did you realize that you want to engage yourself with web development?
Demetrio Fortman: Actually I can't even define when I got interested in computers, Internet and everything related to it. As far back as I can remember I was trying to figure out how the things work and to create something really worthy. No wonder I have chosen web coding and software development as my specialization at collage. Of course all my first attempts of creating a website were not a big success. Still, I am rather persistent, so I kept on striving. And my tenacity was rewarding. Now I'm running three successful projects: MotoCMS, MotoPress and Defrozo.
Interviewer: Just a couple of words about MotoCMS project. What is it about? Who is it aimed at?
Demetrio Fortman: The main idea behind MotoCMS project was enabling anyone to create a professional website for their business needs. With MotoCMS template you don't need to have any coding skills or technical knowledge. Using an intuitive admin panel along with WYSIWYG editor you can modify the look of your website, add different types of content, rearrange design elements by simply dragging and dropping them. And without false modesty I can say that MotoCMS themes are the most comprehensive and intuitive on the market by now. Who is it aimed at? Mostly our clients are small business owners or individual professionals like photographers, musicians, designers, etc. Not so long ago website creation was a prerogative of professional web studios or individual web developers. And with MotoCMS project we made it possible for everyone.
Interviewer: And what about your other projects? Do they have anything in common?
Demetrio Fortman: Yes, MotoPress is actually a WordPress plugin integrating visual builder to WordPress admin panel. And Defrozo is a totally different project targeted to a specific audience – photographers. It is a separate platform that takes into consideration specific needs of this niche, like visual content focusing, full social integration, easy editing of media files, etc.
Interviewer: What are the plans of your MotoCMS team for the nearest future?
Demetrio Fortman: We are constantly working on improving our products, releasing new updates monthly. The most prominent one lately was eCommerce plugin, allowing anyone to kick-start a solid eCommerce project. Considering the feedbacks of our clients we also included blog functionality to our themes. We always take into account the opinion of our clients in our work. I think, the next step would be offering our own hosting to our customers.
Interviewer: There is no secret that you are partnering with TemplateMonster. What motivated you for this step?
Demetrio Fortman: I launched MotoCMS project back in 2008. The next year it became obvious that we had the same goals with TemplateMonster and that we were moving in the same direction. Then I though it wouldn't be bad to join the forces. It might be beneficial for both of us. And to a greater degree for MotoCMS, as we were a young project and partnering with the company who by that time was a force at the template market could work in our favor. TemplateMonster is still one of the most influential companies and I am really proud that we made this long way together.
Interviewer: TemplateMonster has quite an impressive collection of templates. But people might claim that the average price for the template is higher than the competitors'. How can you comment on this?
Demetrio Fortman: Well, that is just a part of the truth. If you regard this problem superficially, you will say that the prices are a little bit higher. But if start figuring out what is included into the price, you will understand the fallacy of such judgment. First of all TemplateMonster offers lots of promos and discounts. Then, you get all the licensed images the theme goes with (except for GPL licensed templates). As far as I know, no other company provides their clients with free lifetime 24/7 support. The majority of the themes also feature premium modules with total cost more than the cost of the template, if you decide to buy them separately. You can see the number of benefits and additional advantages you get for the price of the template. So, as for me, simply telling that TemplateMonster themes are more expensive is fundamentally wrong. Moreover, this year TemplateMonster got to the top 3 on TrustPilot.

Interviewer: What products are you working on lately?
Demetrio Fortman: This year we have been concentrated on innovative flagship products at TemplateMonster. The TM collection has been reinforced by powerful WordPress, Joomla, PrestaShop, Magento and many other themes. For example, for PrestaShop this is Eveprest . It is a multipurpose theme with 5 niche templates, lots of in-built modules and advanced customization options. Among HTML5 themes we have Starbis – another multipurpose solution with 5 child themes and intuitive Novi Builder.

And we have just launched long-awaited Monstroid 2. So our clients can evaluate the next generation of Monstroid right away.
Interviewer: And what about custom designs? Are there clients who want a unique-looking website and how can you help them?
Demetrio Fortman: Well, frankly, I don't see any point in reinventing the wheel. All the templates we produce are highly flexible. Fixed layouts are no longer in trend. Visual builders make it easy to adjust any theme up to your liking and needs. You can literally completely redesign your theme, if desired. You can change it to the extent that no one would recognize a ready-made template behind it. It is simple. However those who don't want to do it themselves or don't have time can apply to TM Service Center.
Interviewer: Ok, it seems that entrepreneurs will benefit from your templates anyway. And what about web developers? Do you target only the end user, or can web developers gain something from your themes as well?
Demetrio Fortman: Of course, they can. They can use our ready-made themes for the client's website. Building a website from scratch is much more time-consuming than adjusting a ready-made template to the project. Thus they can be more productive and in the same period of time complete more orders. Besides, any web studio or individual web developer has a chance to get to TemplateMonster Web Studios Catalogue and to become our partner.
Interviewer: Ok, it seems that here everything is taped as well. And who else can derive benefits from your templates?
Demetrio Fortman: I think you mean our affiliate program. Anyone can become our affiliate and get commissions from the sales. The registration is simple, all tools are provided, so no point in hesitations:) The commission rate is rather fair and competitive. It grows gradually accordingly to the number of sales you make. Thus you can get up to 50% commission for each sale.
Interviewer: Ok, thank you Demetrio. This was extremely productive dialog and I am sure, our readers have learnt a lot about your company and products.