Breathtaking Selection of 10 Best Radio Website Templates for Your Inspiration
Unquestionably, owning a gorgeous, professional and truly powerful website is an undeniable must-have for any successful person and popular company. That is why these days one can find a plenty of different remarkable and entertaining websites for any kind of services. Seeing that, would you like to manage your own perfect online project that will introduce your business to the whole world? For these simple reasons, today I'm going to show you an easy but advantageous way to set up a website of your dream. Without a doubt, it should be not only a qualitative project but also a unique one in order to catch the attention of your guests and transform them into regular visitors of your pages. Without a doubt, having a strong desire to set up a cool website for your needs doesn't mean having some coding skills. You may ask: what should do those people, who know nothing about coding? Well, we live in the times of smart technologies, my friends, so today there is nothing impossible for a modern person. That is why in this article I'm going to introduce you the recent selection of awesome radio website templates that were made, designed and featured by TemplateMonster. Be sure, these responsive and flexible products will quickly help you to launch a perspective online project, related to your business type. Would you like to know more about such helpful products? Thus, let's begin!
First of all, the attached radio templates are multifunctional. To make a long story short, each of these notable examples is featured with a marvelous list of various stylish and useful functions. Needless to say, the radio themes have on their packages such modern features as MegaMenu, dropdown menu, commenting system, Google web fonts, major email content support, clients notification, comfortable search, back to top button and other modern things that will help one to create a charming online project. Still, today we are talking about the radio website templates! It means that the themes should have something special – the options that let you make an unquestionably entertaining and pleasant site. Sounds great, doesn't it? For these simple reasons, the radio templates below are also featured with such fabulous items as unbelievable Parallax Effect, adorable Lazy Load Effect, Sliced PSD, Favicon, fully layers PSD, W3C Valid HTML, CSS for Crossbrowser Compatibility, etc. What is more, these radio website templates re also the MailChimp ready and Campaign Monitor ready ones! In addition the examples provide Easy Content and Layout Editing, Multiple Slider and Gallery Options, impressing Set of Widgets and Modules and comfortable Mobile Version Builder. All in all, isn't it a nice opportunity to build the website of your dream?
To illustrate the situation, let me tell you about a couple of mentioned features. First of all, Parallax effect is a new and fashionable web design trend that involves background moving at a slower rate to the foreground and makes a fantastic 3D effect when someone is scrolling your pages. In a word, such graphical effect gives one a sense of a delightful depth and motion. Basically, the technique was made to be used in different video games, but today it is one of the most preferred and indispensable functions for any fashionable online project. Just answer the next question: would you like your future site to be more attractive and eye-catching? Thus, the Parallax effect was made exactly for your needs! Talking about a brilliant appearance of your radio website, Lazy Load Effect is another amazing function that will certainly make you to create an inimitable online project. Shortly, the feature delays loading of pictures in long web pages, so the images outside viewpoint are not loaded until a visitor scrolls to them. As a result, using this function not only gives a cool appearance to your site, but makes its pages load faster as well.
To finish with, the radio templates below will definitely surprise one with the full list of their features, so don't hesitate to push on 'Details' and 'Demo' buttons to see all the aspects of a radio template you would like to use for your future online project!
Stylish Radio Station Web Template
Just take a closer look at this amazing and powerful theme that would be ideal for the creation of your radio website! Made in a modern style, the radio template below will certainly work great for your show and increase its audience. As you can see from 'Details' field, its package is full of different useful features that will help one to manage a radio website that will be worthy of their visitors attention. For example, Dropdown Menu, Back to Top Button, Sliced PSD, Favicon, Crossbrowser Compatibility, Google Web Fonts, Google maps, etc. What is more the radio theme below easily confirms to the size of any screen, whether it is a mobile device, desktop or tablet. In addition, this theme is set up to spotlight cast profiles.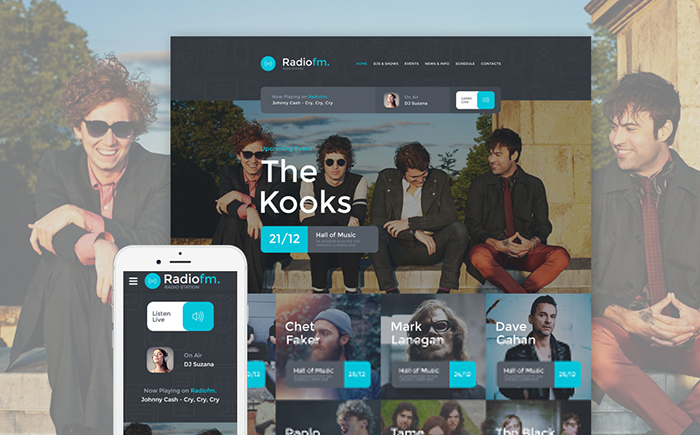 Radio Website Awesome and Responsive Theme
Stylish and elegant, the template is easy in use and installation, so there is nothing that may put a crimp into your dreams! As you may see, this theme was made in pleasant dark tones in order to highlight the beauty of your services. Moreover, there will be no way to miss your spectacular online project as the template provides you with unique Google fonts and bright high-quality pictures. What else should you know about the theme below? Additionally, you will also get free 24/7 technical support and a lot of impressing stock photos and images for free life-time usage. Seeing that, don't miss your chance to set up a beautiful online project for your needs!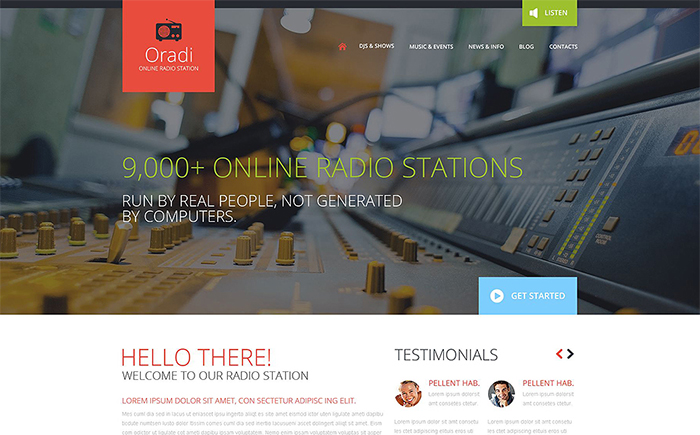 Impressing Radio Website Theme
Still looking for an extraordinary and comfortable theme to create your own website related to printing services? Packed with all of the newest options, this website template is a magnificent theme, created for your convenience. Naturally, the template below is featured with such cool things as 100 % responsive design, unbelievable Parallax Effect, adorable Lazy Load Effect and much more. Without a doubt, the theme will positively impress your potential visitors with its unusual structure and design. Don't hesitate to get everything in one package and even more with the help of this impressing radio website template!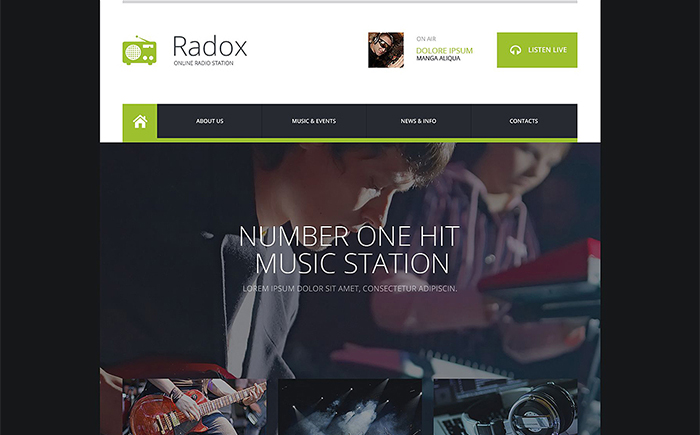 Neat and Colorful Radio Website Theme, Powered by Joomla
Equipped with the modern fonts and high-quality pictures, this radio template a useful thing, powered by Joomla platform that can ideally depict the beauty of your service. Actually, the theme is perfectly tailored for radio, entertainment and other bright online projects that need contemporary look plus rich functionalities. Attractive, bright and fun colors of the provided template will definitely emphasize every detail of your services, so your future website will easily engage viewers and present all information in an interactive way. Moreover, wise navigation and comfortable arrangement of content of this great radio Joomla theme generate pleasant user experience. Unquestionably, the guests of your pages will be pleased with the shopfront and happy with its functionality!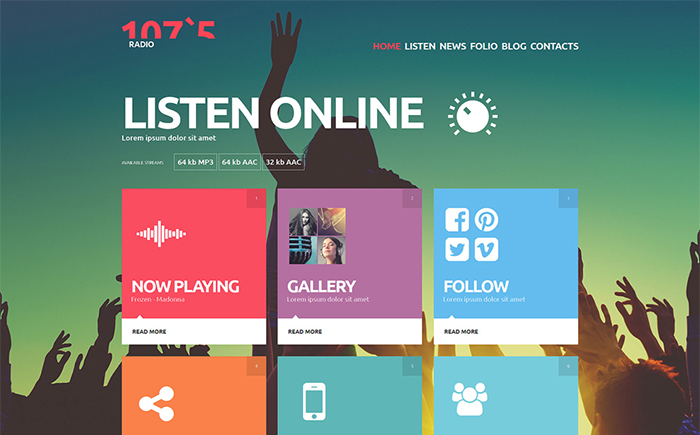 Soft Radio Website Template
As you may see, TemplateMonster provides you with a great variety of a marvelous website templates related to your particular king of business, so below is another multifunctional example that seems to be worthy of your attention. Seeing that, don't hesitate to check all the responsive and multifunctional radio website templates in order to find the one that will be perfect for your long-awaited online project!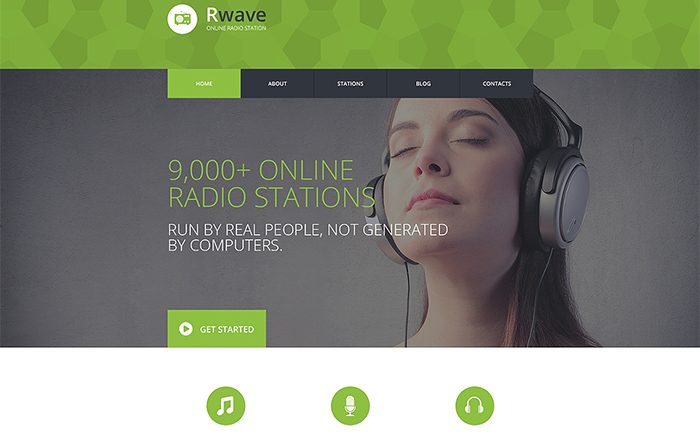 Radio Website Marvelous Newsletter Template
Hey, don't miss your chance! Check this wonderful radio website template for the creating of a successful website, as it includes an impressing package of vital features for the creating of your online project just out-of-the-box. First of all, the theme is fully responsive, so you will quickly realize all your dreams with no effort! What is more, the theme is also MailChimp and Campaign Monitor ready. It has major email content support, fully layers PSD, W3C Valid HTML, CSS for Crossbrowser Compatibility, etc. All in all, price-quality rates may surprise you and soon this easy in use theme will be an inherent part of your internet business.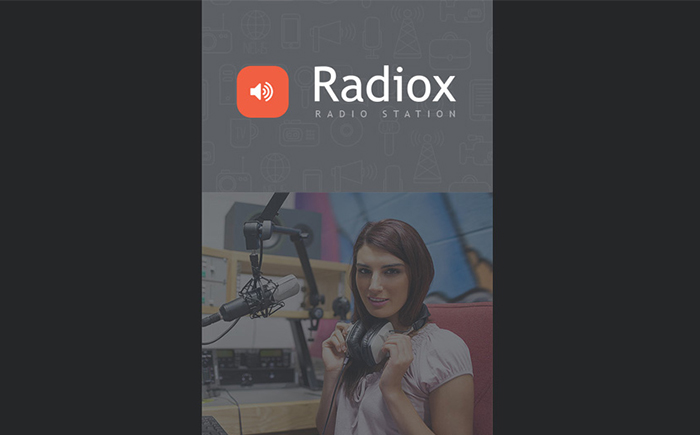 Charming Radio Website Landing Page Template
Needless to say, such a progressive and responsive theme will absolutely catch your guests' eye. Made in the beautiful and deep shades, this radio template seems to be your chance to build a worthy online project, without touching a single line of code. Made in minimalism, this marvelous and even superb theme will certainly help you to customize the design of your website and transform it into a shining candy with no effort!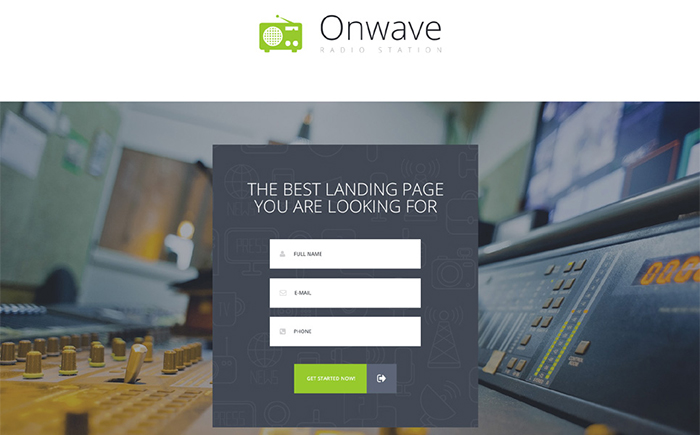 Adorable and Minimalistic Radio Website Template
As you may see, the proposed theme was created in the light green, white and grey tones and will indisputably emphasize the subject of your online project. Be sure, from now you don't have to be a guru of coding in order to get an authoritative and gorgeous eCommerce site, as the layouts of the theme are easy to browse, so below you can see a perfect choice for business, related to radio stations, solo artists, bands, DJs, etc. As you can see, flat and minimalistic design feature bold metro style elements that work as awesome attention triggers. Furthermore, one can include audio players, video files, photo gallery and so much more.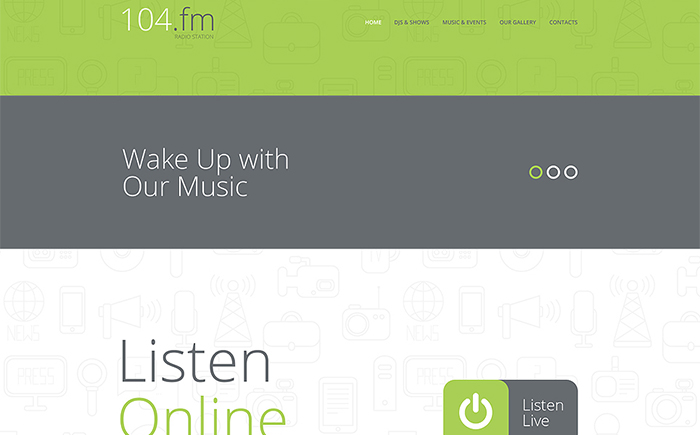 Light Radio Website Flash CMS Template
To begin with, this well structured and professionally documented theme gives a really fast start to your ideas! Made in green shades, the theme has a package full of all the needed functions that would be an indisputable thing for the creating of a productive, splendid and perfectly running website. For example, MegaMenu, Easy Content and Layout Editing, Multiple Slider and Gallery Options, impressing Set of Widgets and Modules, comfortable Mobile Version Builder, Crossbrowser Compatibility, Commenting System, Dropdown Menu, Google maps and web fonts, etc. Don't miss your chance to get all that you want and even more!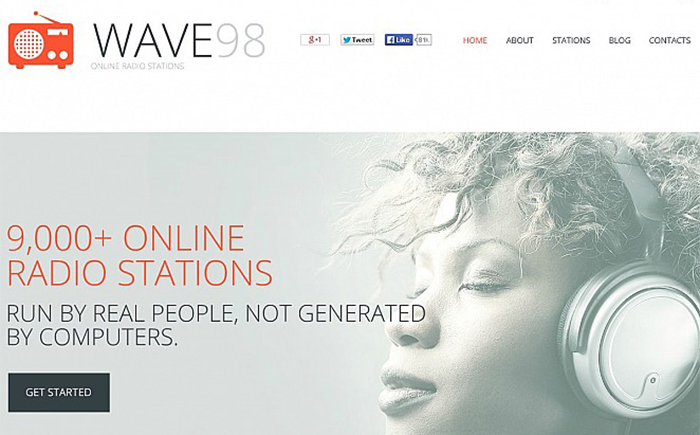 Mixed Taste Music Shop Magento Theme
Still looking for an extraordinary and comfortable theme to create your own radio website related? Packed with all of the newest options, this Magento theme is a magnificent template, created for your convenience. Additionally, the theme will positively impress your potential customers with its unusual structure and design. Get everything in one package and even more with the help of the theme below, as it is flexible and dynamic enough for you to tweak it just the way you wish!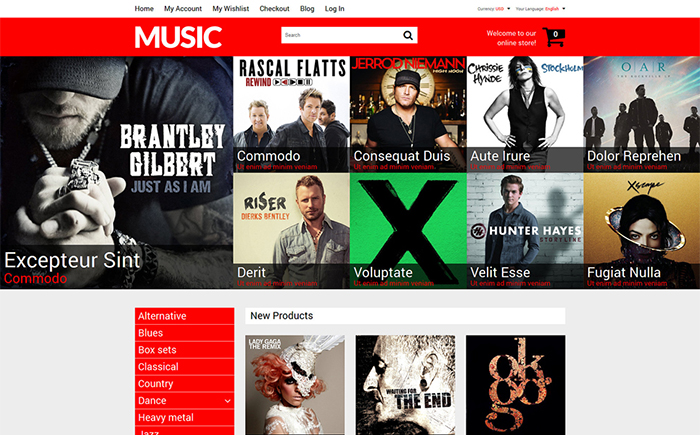 As you can see, these radio templates were thoroughly built with a valid, semantic code, so they are powerful and flexible enough to catch any corporate needs as well as personal preferences. With their help one can manage a shining eCommerce website with no effort, even if they have never built a website before! Seeing that, stop wasting your time! Just go to TM's gallery and check all the inspiring website themes to find an ideal template, which will easily realize your dreams!
Top 20 Bestselling WordPress Themes of Spring 2017
Spring is the best time for the new beginnings. The nature awakens from the long sleep, the sun is shining brightly and you feel like you can do absolutely everything. You should use this energy for starting your own business or upgrading the existing one. If you still don't have a website this is right time to consider this idea. It is hard to run a business without having a website nowadays, when Internet plays such an important part in the everyday life. Moreover, creating a website is no longer that difficult and costly as it was before. You still can hire a web studio or individual developer to design your website from scratch. However, there is much easier way. You can use a ready-made template to kickstart your website. As an example, we have chosen 20 bestselling WordPress themes for different business niches for you to start from.
Presently, WordPress is the most popular CMS worldwide. The number of websites running on WordPress is really enormous and includes blogs, corporate websites, CVs, portfolios, online stores, etc. As you can see, WordPress is no longer a blogging CMS only. It has transformed into fully functional platform. Thousands of free and premium plugins allow you enhancing the functionality of your website to whatever extent you need. What is more, WordPress is the most intuitive CMS, which makes it ideal for the beginners.
The bestselling WordPress themes included in this roundup have loads of advantages. First of all, all of them are produced by the template provider of global renown TemplateMonster. This is not just a brand. The company has 15 years of experience in the market, has produced thousands of templates and really knows how many beans make five. The templates from this roundup are their latest brainchildren. All of them are fully responsive, which is a must nowadays. Running on the latest version of Cherry Framework, they provide you with advanced functionality and user-friendly admin panel. But the main advantage of choosing TemplateMonster is access to the free lifetime support.
If you don't have much experience and feel confused, here is a free interactive tutorial for you. This is a pleasant bonus from TemplateMonster that will help you to launch your WordPress website in 5 days already.
Monstroid2 – Multipurpose WordPress Theme
Monstroid2 is a new generation of multipurpose WordPress themes. It has everything you need to start a website of whatever orientation. Numerous pre-built websites, customizable header and footer styles, 4 blog layouts and multiple color options allow you adjusting the template to your needs. To enhance the functionality of your website it is equipped with a powerful block of plugins, including WooCommerce plugin. GPL license gives you a complete freedom and control over the theme.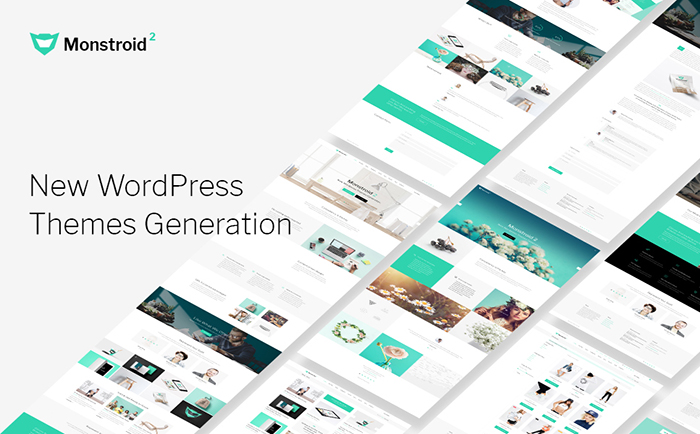 Remodel – Interior Design WordPress Theme
Remodel is an ideal choice for interior design studios, remodeling and renovation agencies. It uses neutral color scheme with bright orange accents that attract attention to the most important elements. Minimalistic design keeps the visitors focused on the content. Grid-based portfolio creates a decent representation of your works. Power page builder allows you building your layouts in the drag-and-drop mode.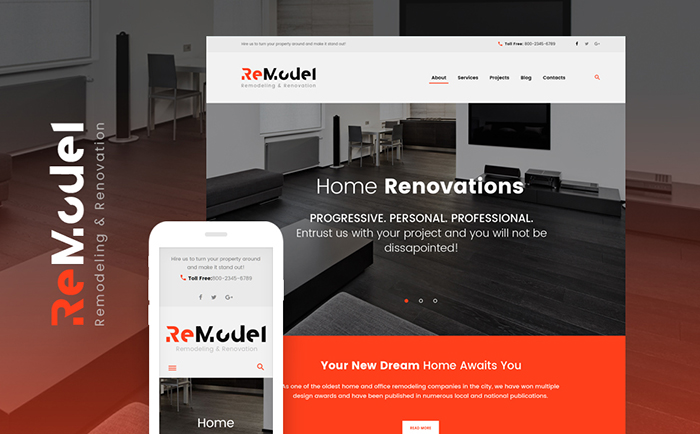 Ascendio – Corporate Website WordPress Theme
Thanks to the versatile layout Ascendio will suit any type of business. The design is fully responsive and retina ready, meaning your website will be displayed flawlessly on any device. The template runs on Cherry Framework 5, which provides with intuitive admin dashboard and advanced customization options. Visual editor and WordPress Live Customizer are going to facilitate the customization process.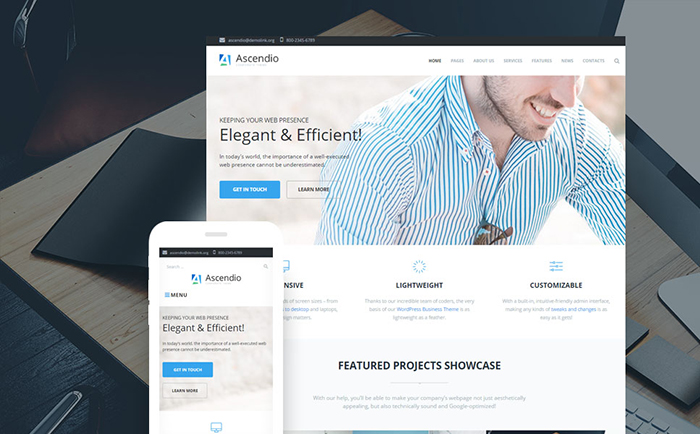 EMpower – Solar Energy WordPress Theme
The template is designed in juicy green colors, which are associated with nature. This makes the theme ideal for ecology websites. 40 ready-to-use HTML pages are at your disposal. The theme comes with numerous Cherry plugins, such as Cherry Search, Cherry Services, Cherry Sidebars and Cherry Projects. Drag-and-drop page builder makes it easy to customize your layout in the visual mode.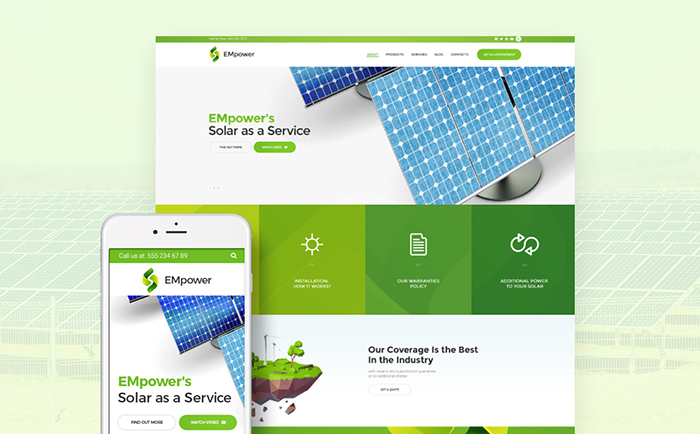 Woods – Hotel & Resort WordPress Theme
This template has everything you need for a successful hotel and resort website. A well-balanced design and clear structure make the theme look logical and easy to scan. Hotel booking plugin allows your visitors to book a room they want online. Restaurant menu plugin will help you to display the hottest propositions of your restaurant. The theme is fully editable and can be customized without touching any single line of the code.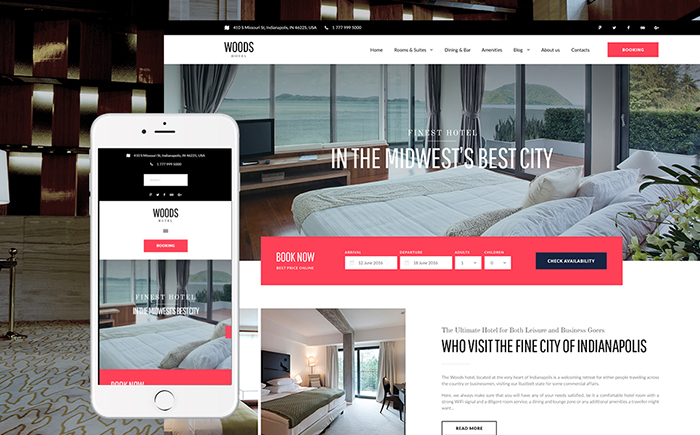 Bailey – Furniture & Interior WordPress Theme
This modern template features crispy sleek design with original catchy layout. Cherry projects portfolio allows you choosing the most creative way to showcase your works. Versatile sidebar settings, multiple header and footer styles, a variety of color options will help you to make your website look unusual and personalized. Power page builder gives you an opportunity to modify your layouts with ease.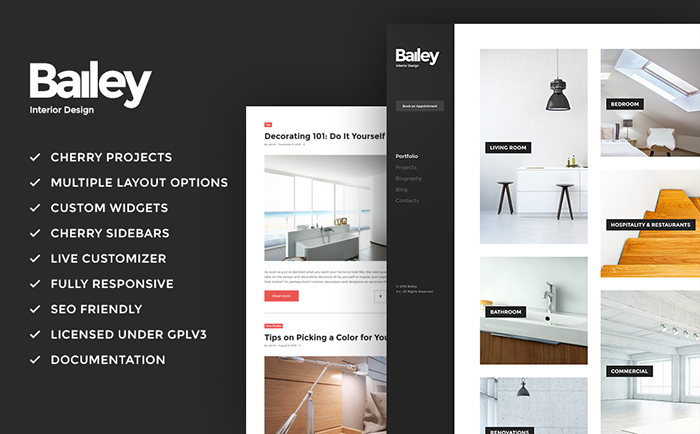 Laredo – Exterior Design WordPress Theme
This template is a real catch for representation of exterior design services online. Stylish header slider with splash text catches the eye. Cherry Projects plugin allows you creating a gallery of your projects without any efforts. Original fonts and well-thought layout make the information easy to scan and comprehend. Stick-to-top menu provides smooth and seamless navigation.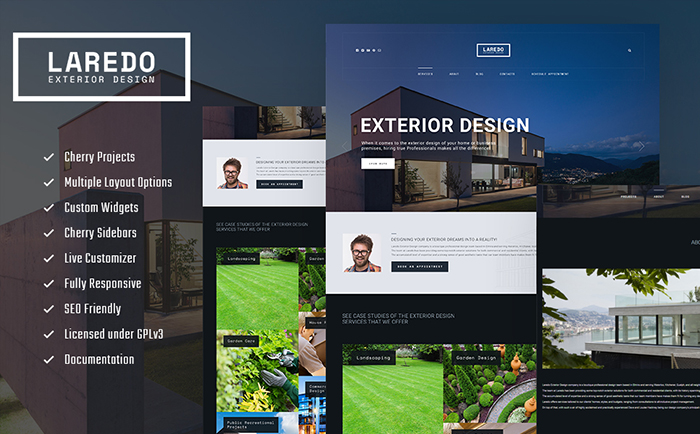 Taylor – Financial Accountant WordPress Theme
Taylor is a professional WordPress theme that will fit any business. Its simple layout structure make the information look organized and easy to look through. Multiple layout options allow you adjusting the pages' structure to your particular project. With powerful drag-and-drop page builder customization becomes an easy and enjoyable process. Lots of custom widgets enrich your website's functionality and provide you with advanced possibilities.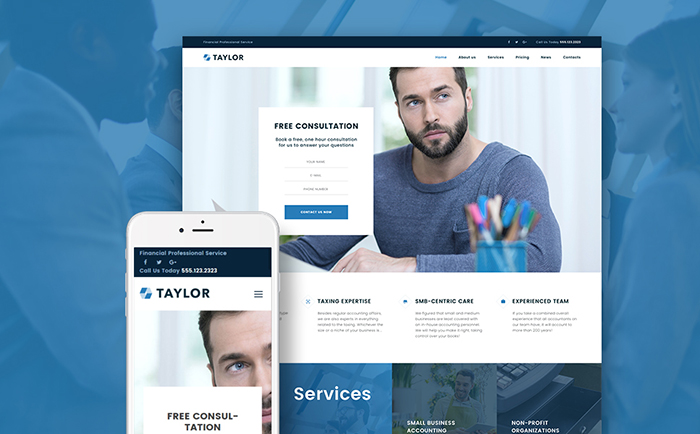 Kustrix – Fashion Blog WordPress Theme
Kustrix is an ideal choice for your fashion and style blog. The template looks tender and feminine due to the pastel color scheme, floral patterns and beautiful hand-written fonts. The layout structure allows you organizing the content and additional navigation elements the best way possible. Social media integration will help you to popularize your blog through social networks.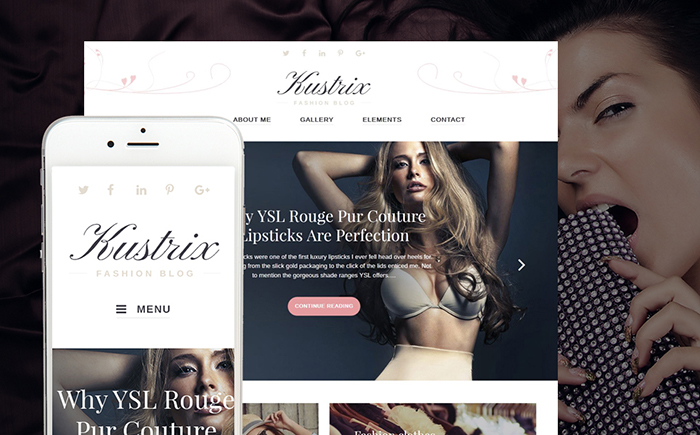 KingNews – News Portal WordPress Theme
The template is designed to handle content-heavy websites. Thus it will be ideal for news portals and online magazines. Despite of containing a lot of information the theme doesn't look overburdened due to the well-thought layout structure. The theme is licensed under GPL v3.0, giving you the right to use the theme for unlimited number of projects and edit its source code. KingNews is fully responsive and retina ready.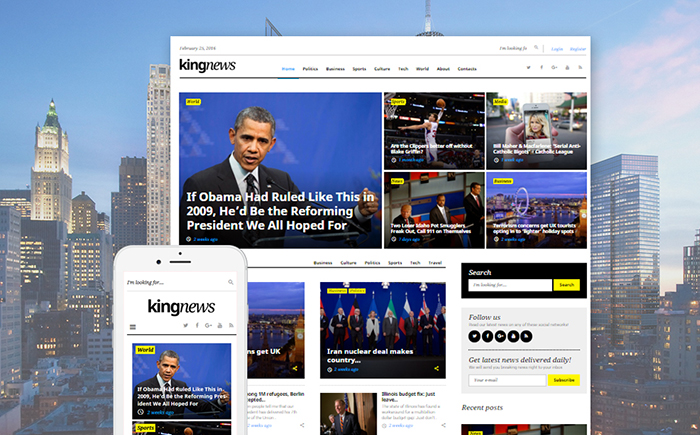 Caldera – Steelworks and Constructions WordPress Theme
This powerful template will fit industrial companies that want to present their services online. The theme boasts powerful functionality provided by Cherry Framework 5. Dynamic Services and Cherry Projects plugins allow you creating stunning portfolios to showcase your products and services. Power builder and WordPress Live Customizer provide smooth and easy customization process in WYSIWYG mode.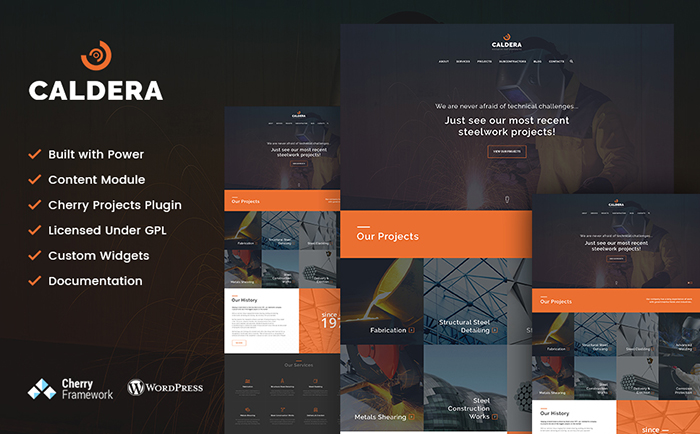 Jericho – Barber Shop WordPress Theme
This stylish WordPress theme is a perfect fit for fashion portfolios, hair salons or fashion blogs. Urban spirit of the template is expressed through long beards, stylish haircuts, glasses and tattoos. The theme is fully customizable and allows you choosing from 6 blog layouts, 3 sidebar positions, various header and footer styles, unlimited color options and numerous widgets. And all this modifications can be done through Power builder and Live Customizer.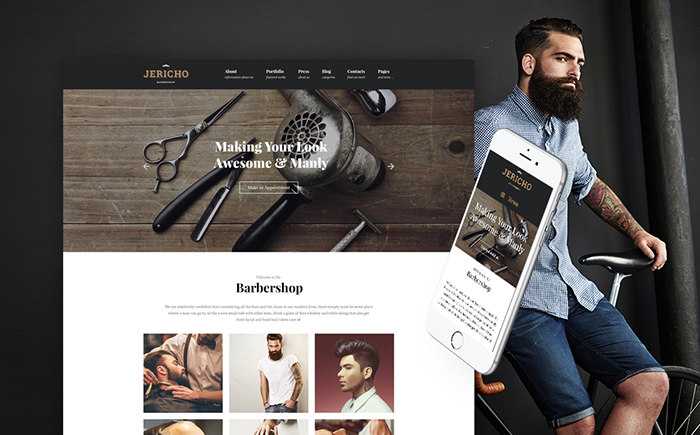 Summit – Industrial Roofing WordPress Theme
This smart template will fit any industrial company. The well-thought layout features visually separated content blocks, which makes the information clear and readable. The contact details and opening hours are placed in the header to strike the eye at once. With the help of Content Modules you can diversify your website with different types of content. You clients would also appreciate appointment manager plugin.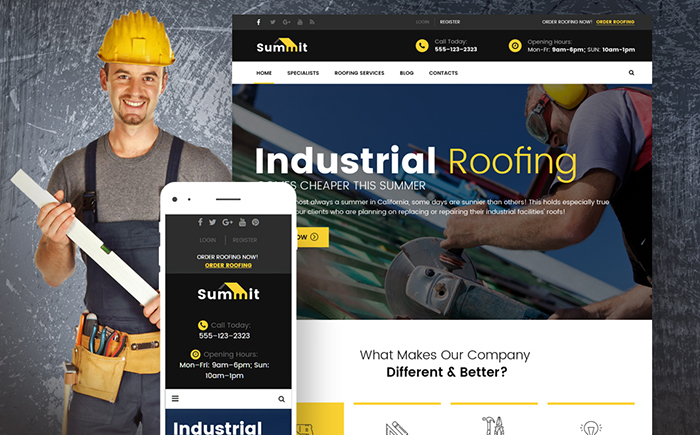 HomePro – Real Estate WordPress Theme
HomePro is a professional niche template designed to fit real estate needs. The theme comes with specific plugins that are intended to make your life easier. For example, Cherry Real Estate plugin provides your visitors with advanced intuitive search and allows you adding the properties easily. IDX support gives you an opportunity to embed live data from the MLS right into your blog.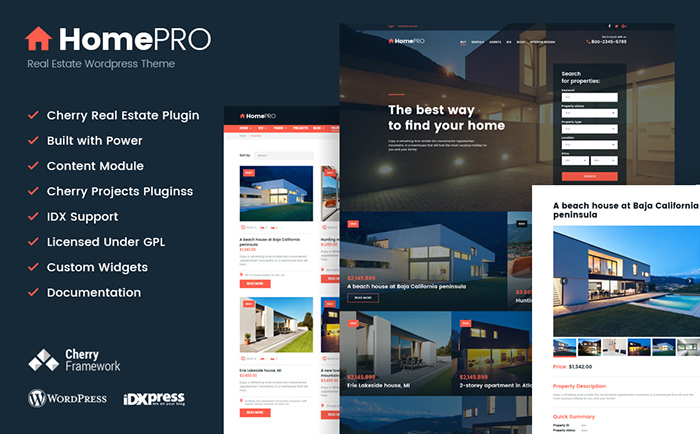 Builderry – Construction Company WordPress Theme
This template can become your true ally in building a corporate website of any complexity. Stylish dark color scheme, trendy icons, large images and ghost buttons create an up-to-date look. The theme boasts rich functionality due to lots of features and custom widgets. Cherry Projects plugin is a powerful tool that allows you creative stunning original representations of the works completed.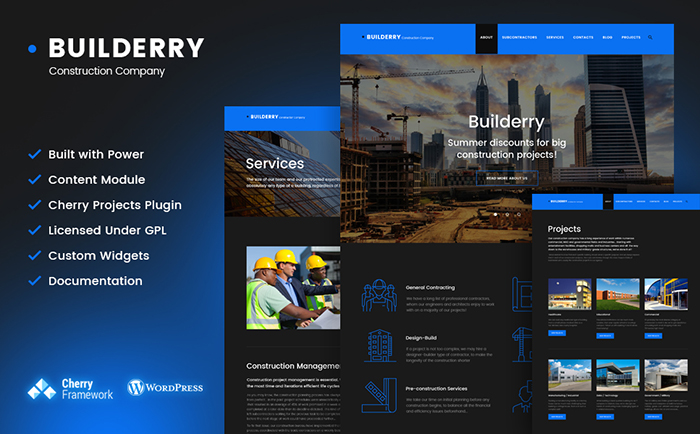 Artwork – Art & Photography WordPress Theme
Artwork is extremely exquisite and elegant WordPress theme. The theme features smart well-though design, where all the attention is focused on the contemplation of your artworks, without distracting attention. Parallax scrolling allows your visitors immerse into your works. To edit your template in the visual mode and to give it a unique look you can use MotoPress drag-and-drop editor.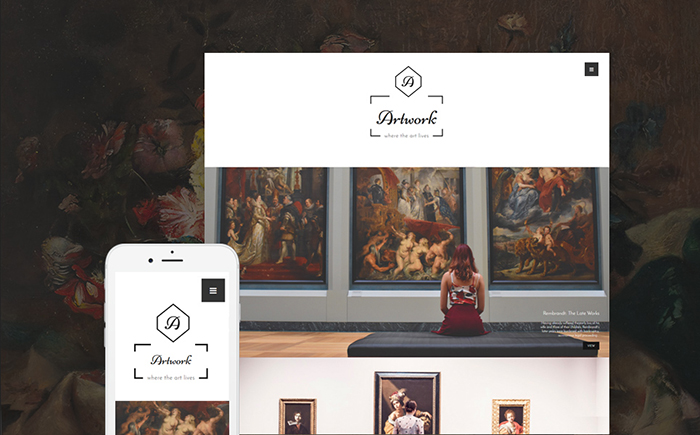 Sensei – Martial Arts WordPress Theme
The theme uses black and yellow color scheme, which looks energetic and emotional and is the most appropriate choice for a MMA website. The template is equipped with lots of handy plugins. For example, you can use Appointment Manager plugin to provide your visitors with an easy booking process. Timetable plugin makes it easy to organize the events and to create schedules.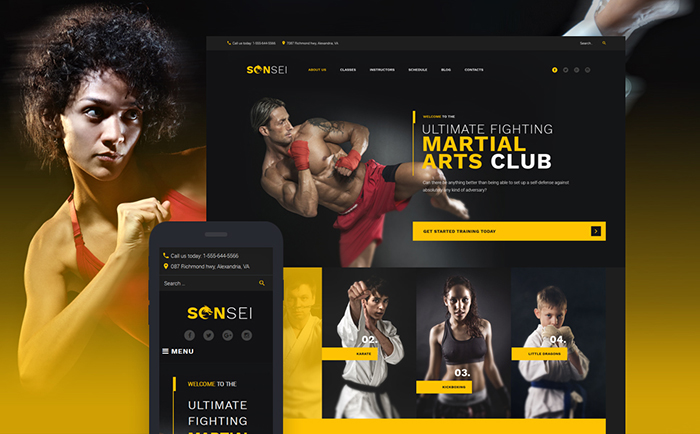 Bellaina – Real Estate WordPress Theme
Bellaina has everything you may need to start a successful real estate business. First of all, it features clean well-thought design, which follows all the latest trends. Power builder with drag-and-drop functionality makes it easy to tweak the layout up to your liking. Lots of useful plugins such as Cherry Projects and Cherry Real Estate plugin along with IDX support are going to make your business running easier.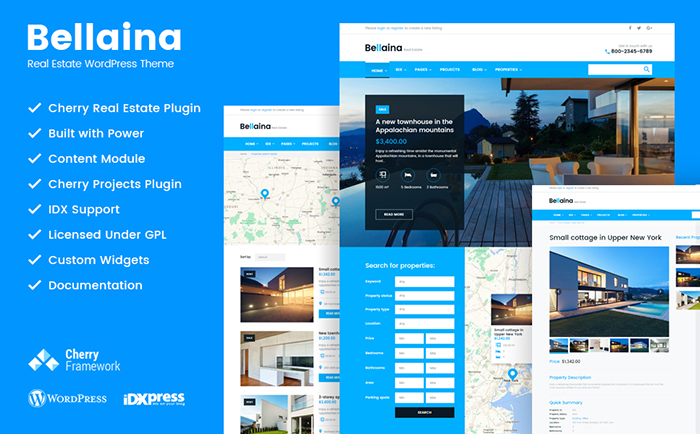 Jorden – Wine & Winery WordPress Theme
Full-width slider with beautiful scenery is the first thing the visitor sees on your website. The layout uses neutral colors, pretty fonts and soft patterns. Restaurant menu plugin will help you to get your visitors acquainted with your specialty. Parallax scrolling and background video integration will add dynamics and diversify your layout.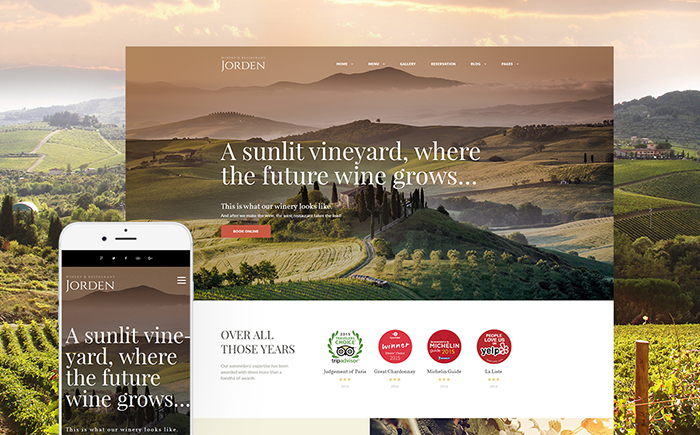 Madeleine – SPA & Skincare WordPress Theme
Madeleine features soft and tender design. This would be an ideal choice for the beauty industry websites. Stylish photos, beautiful typography and rounded buttons make the website look feminine and relaxing. The theme has a full set of features that will help you to build a fully functional website. You can enrich its functionality due to the lots of custom widgets inbuilt.