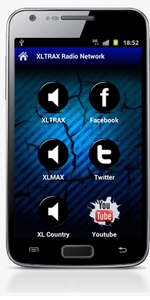 More and more people are listening to radio on their smartphones with an android mobile application . The technologies in these devices are advancing daily. Cell phone carriers are improving data capabilities and pricing is becoming more and more affordable. In today's day and age, people are always on the go, whether they are jogging, travelling or relaxing they now have the possibility of turning their smartphones into a small radio.
Wake up Radio Station owners
Sadly many radio station operators have ignored this growing trend and have not thought about investing in a mobile streaming application for the current popular platforms like Apple iOS (IPhone) or Android. It was only a short time ago that developing an application was extremely complex because of multiple platforms on the market like Blackberry, Windows Mobile, Java phones, Nokia and other phone operating systems. A station operator had to select the platform that he considered most popular for his listeners, and then spend tons of cash on development, only to see new technology come out. In consequence, it rendered their expensive custom application completely useless.
Android or Apple iOS
According to an article in Business Insider http://www.businessinsider.com/history-of-android-2013-8 Google's Android is powering 80% of devices worldwide. Apple dropped a year ago from about 16% to now powering 13% of the smartphones worldwide. This is not a debate about which operating system is better than the other! That can be saved for another time. The point we are making here, is that we now know on which platform we need to concentrate our energy and development.
Android backed by Google
Android is an operating system based on the Linux kernel,and designed primarily for touchscreen mobile devices such as smartphones and tablet computers. Initially developed by Android, Inc., which Google backed financially and later bought in 2005. The operating system Android is open source, which allows for open and easy development in contrast to Apple iOS, which is based more on proprietary software. The applications of your choice and developed for Android can be uploaded and distributed to the easy to use and powerful Google Store. On the other hand, applications developed for Apple iOS can be uploaded and then downloaded off the App store ITunes.
Features for your application
No radio station owner will say NO to additional listeners as well as to new tools to build listener loyalty. You now understand the importance of having at least a mobile application for Android. Where do you start?
First, you must build an application for your radio station only. There are plenty of mobile internet radio directories applications like Tune In out there, but you will just get lost in the thousands of radio stations listed. You need an application that is built specifically for your station and with your logo.
Secondly, you want to add all of your social media information. This includes your Twitter feed, Facebook page and YouTube video and contact pages. Having this information available just a click away on their mobile devices is great for your listener's social media and interaction experience with your radio station.
Thirdly, ensure that your application will provide you with very important statistics – how many downloads, user location, time spent listening, etc. Some applications will even allow you to integrate your Google Analytics account. These statistics are crucial to proper marketing planning.
Believe it or not you can even make money with an application. There are two popular ways to do so once you have uploaded and made it available on Google Play. First, you can decide to provide it for free or sell it to your users. Secondly, you can earn advertising revenue by including ads in your app.
If you decide to go forward with a revenue generating application; you must weigh the pros and cons. It may not be a very popular thing to charge for a radio application when your goal is to gain new listeners unless you have a unique application with special features. That does not mean a radio station could not get creative by maybe offering an on air contest to those that download the application and pay 99 cents. The possibilities are endless and those that have the best ideas will have the most success. Bottom line is, do not expect that you can throw an application on Google Play store and that people will rush to pay to download it.
Remember to use proper etiquette, if you charge for your application it should be ad free. However, you could offer your application for free and insert ads. Test out the different ad platforms that exist and make sure they are not too intrusive for the user, after all they are just trying to listen to your radio station. Your users have the opportunity to review the application. On Google Play Store users can leave 1 to 5 stars and leave a comment. Read these comments and take them seriously, because it is important feedback you will receive about the application.
Smartphones and tablets are red-hot and found everywhere today. Over 1.3 million Android devices are activated every day. Do not miss out on getting your radio heard to this ever-expanding audience. Radiosolution is now offering Android custom applications built for your radio station. Click here to order or contact us and we will build an app with all the cool features talked about in this article.
Written by Derek Bullard  CEO of Radiosolution